The journey to offering an award-winning digital banking experience
For 80 years, Coast Capital has been playing an essential role in making a positive impact in the lives of each of its members by unlocking potential financial opportunities, currently serving nearly 600,000 members through its 50-location branch network and through its award-winning digital banking platform. With trusted and personalized advice and a broad range of banking products and financial services, they're enabling their members to save, spend, invest, and protect their financial well-being with confidence at every stage of life.
As the cooperative began its journey to becoming one of the nation's first credit unions to move beyond its provincial borders and realize its goal of becoming a federal financial institution serving Canadians from coast to coast, Coast Capital set on a journey to become a technology-enabled organization with a leading digital experience, where a new modern digital platform would be critical to establishing a competitive advantage.
New digital banking platform for a digitally-savvy generation
In 2017, Coast Capital started a comprehensive process to select a strategic partner for their digital banking platform to power self-serve banking channels, prioritizing innovative and comprehensive core digital banking capabilities, security, API-enabled architecture, and cloud-based infrastructure.
Coast Capital evaluated over 40 vendors across the world, with the final decision landing on the ebankIT Omnichannel Platform. Coast Capital was looking for a partner who could provide a modern digital platform with an open architecture that could deliver readiness for third-party integrations while supporting retail, small business, and commercial member segments under a single platform. As part of the product evaluation process, ebankIT put together a strong proof-of-concept and demo of its core and integration capabilities, showing the personalization potential within the platform combined with leading security infrastructure in alignment with the experience that Coast Capital wanted to bring to its members.
The scalability of ebankIT's solution and prompt adaptation to the market contributed to its success in Canada. As of March 2021, ebankIT's solution is already licensed to financial institutions representing 35% of total end-users of the top 100 credit unions in the country (Quebec credit unions excluded), and this number is expected to continue to grow.
Digital Banking Platform with open architecture
PRE-INTEGRATION
ebankIT is able to do more through the simplification of financial technologies, deep automation, and configuration. Its platform's architecture blends out-of-the-box features and capabilities with the flexibility to extend & evolve in-house and integrate with an API ecosystem (best-in-class fintech) through its API Gateway, which helped to foster Coast Capital's ability to take advantage of third-party innovation.
The ebankIT digital banking platform also comes pre-integrated with some of the main top core banking platforms like Fiserv, Mambu, Temenos, Finastra, SAP, Infosys, and Oracle, amongst others.
MODULAR APPROACH
ebankIT's modular approach allows financial institutions to choose which channels they prefer to have installed, granting the expansion according to the priorities of the bank or credit union (e.g., branch front office, call center, or wearables. In the case of Coast Capital, the choice for digital channels includes Web and Mobile banking across retail and business users, including member support tools for staff.
CYBERSECURITY
Coast Capital placed top priority on high-tech fraud and cyberattack prevention throughout the planning, development, and execution of the digital banking project. In alignment with Coast Capital's requirements, the ebankIT platform offered several features and enhancements to protect end-users:
secure biometric login;
member-centric login experience, including personalized login credentials;
risk-driven multi-factor authentication for sensitive transactions;
mandatory dynamic risk-based user profiling;
notifications for critical activities and real-time fraud activity alerts.
ebankIT is an organization that listens, and is very innovative, ...

Jeff Wong Chief Digital, Information and Technology Officer for Coast Capital Savings
Quick innovation
With Coast Capital's 80-year legacy of putting members first, they have put a strong focus on member-first, user experience-centric initiatives. The onboarding of more than 240,000 digital members was executed gradually, taking into consideration the different needs, technical expertise, and different tolerance to change of Coast Capital members.
Taking advantage of ebankIT's prebuilt integration layer, the public website went live after a deployment period of 6 months, quickly followed by the retail web and mobile banking channel. Finally, all the implementation and customization process was concluded when the Small Business banking solution was launched for both mobile and web channels.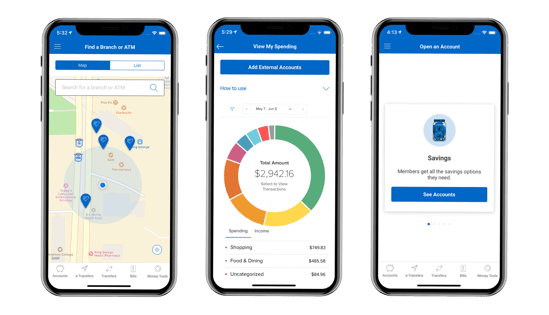 Modular approach for the Canadian market
ebankIT's strategy for Canada included significant investment to address the specificities of Canadian regulation and feature requirements. By setting the mandatory functionalities applicable to Canada, ebankIT evolved the platform to build a module that prepared the product for a smoother and faster deployment and adaptation to the Canadian market. ebankIT's new Canadian Layer captures retail, small business, and commercial features such as management of payees, account sweeps, stop cheques, Canada Post integration, stop AFT, CRA payments, Interac e-transfers, and financial reminders.
Award-winning experience & partnership
The collaboration to create a truly digital and secure experience for the end-users made an impact not only in Canada but also in the US market. In 2019, Coast Capital and ebankIT were awarded "Best Fintech Partnership" at one of the most prestigious events in the financial services industry, FINOVATE Fall, in New York.
Coast Capital was also recognized with a CS050 Award (2020), highlighting the security and excellence in risk management within its digital solution.
In 2020, the Surviscor Mobile Banking Review named Coast Capital in the top 5 mobile banking services across all financial institutions in Canada, as well as the Best Credit Union for mobile services in the country. The same year, iSky named Coast Capital's iOS app in the top 3 in Canada.
A diverse and innovative feature set
With the foundational technology in place, Coast Capital has created an exceptional member experience, delivering innovative features that help the credit union build better futures together for their members, employees, and communities. The team at Coast Capital aims to put out a release every 4-6 weeks, which includes new features as well as improvements to deliver an exceptional member experience. Some features of note:
Money Manager is a feature-rich personal financial management tool that allows members to see all their accounts (including integrations with accounts held at other financial institutions), create and track budgets and goals, manage spending, and more. With a full view of their finances, members can make informed financial decisions.
Coming soon is Coast Capital's interactive Money Chat. Integrated directly into digital banking, the online tool is the first step in a member's journey to achieve their best financial future. It asks members questions related to their financial well-being and plans for the future, presenting back to them relevant self-serve resources as well as the opportunity to connect with Coast Capital's advisors to put a personalized plan into action to reach their financial goals.
Also on the roadmap are wire transfers for business members (currently in pilot), a new platform for Commercial members that caters to their unique needs, improvements to the Interac e-Transfer experience, and more.
Other helpful features:
Everyday transactions are simplified. Pay bills, transfer money, and deposit cheques on the go
Debit card management features allow members to lock their misplaced debit card or order a replacement
Digital void cheques make setting up pre-authorized debits and payroll deposits a breeze
Personalization features like profile photos, custom background images, and favorite transactions
Ability to view balances without logging in with Quickview, and time-saving biometric login capability
Small business features, including delegate management, membership consolidation
In an environment as highly regulated as financial services, ebankIT has been able to prove its ability to adjust its omnichannel digital banking platform. As a result, its partnership network is growing exponentially, giving the company an increased ability to constantly adapt and evolve.
With a strong international scope as part of its DNA, ebankIT will continue to invest to allow all its customers around the globe to enhance their businesses by delivering a fast and seamless digital banking transformation platform.