Unlock key advantages
Accurate targeting
Precisely identify and segment your audience based on intricate parameters to pinpoint the ideal customer.
Personalized messaging
Craft tailored messages that resonate with individual clients by addressing their unique needs and preferences
Time optimization
Deliver messages at the right time. Harness automation to ensure your campaigns reach clients when they are most receptive
Streamline workflows
Enhance productivity by duplicating successful campaigns. Modify attributes swiftly, saving time while maintaining efficacy
Resource efficiency
Bring all campaign activities together in a single, powerful hub. Simplify the process of importing, filtering, and organizing marketing lists

Real-time analytics
Gain real-time insights into the performance of your campaigns. Monitor engagement, conversion rates, and more
Content Management
Integrate with external content management systems and enhance content creation efficiency and eliminate repetitive tasks.
Foster collaboration
Enhance teamwork between marketing and sales, exchange leads, customer data, and track the progress of your sales pipeline.
Streamline your marketing efforts
Bring all your marketing activities under one roof. Now, you can create and manage personalized campaigns, segment your customer base, send targeted messages, and track the effectiveness of your campaigns - all without breaking a sweat.
and boost customer engagement
Craft customized campaigns that deeply connect with each customer. Utilize data-driven insights to precisely target individual clients, deliver personalized messages, and enhance conversion rates. Engage your valued customers in unprecedented ways.
to enhance sales performance
Boost the performance of your sales team by integrating the campaign module into your CRM system. Foster collaboration and seamlessly share leads and customer data, monitor pipeline performance, and manage sales activities more efficiently.
Create a campaign in less than
5 simple steps
Define the campaign
Maximizing impact with inbound-outbound synergy
Harness the power of inbound and outbound campaigns to enhance your marketing endeavors. By employing inbound strategies, you can successfully nurture leads and pave the way for impactful outbound communications. Target specific demographics, interests, and behaviors with the campaign module to ensure your message reaches the right people, generating quick results.
Attract and engage

Connect with intention

Build trust in the digital age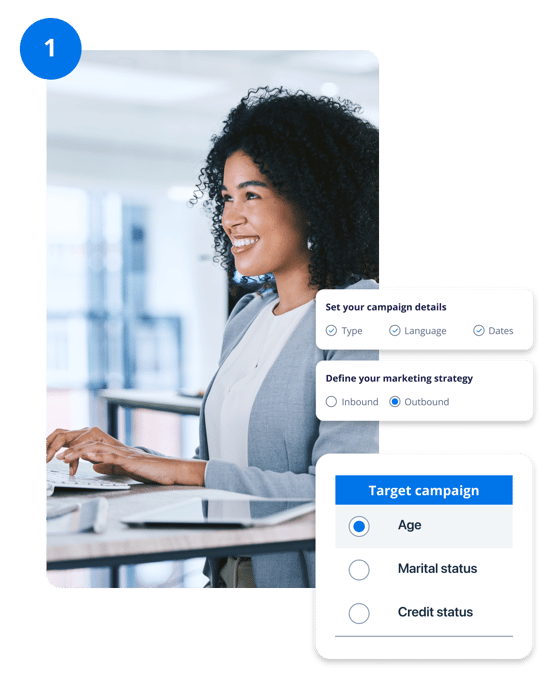 Choose the channels
Amplify reach and impact with an omnichannel service
Different channels attract different audiences. Empower your marketing team to handpick the channels that perfectly align with the campaign's objectives. Reach your customers across multiple channels, including email, SMS, push notifications, and secure messages. Make sure you are where your customers are!
Crafting consistency

Mastering multi-touch

Expanding reach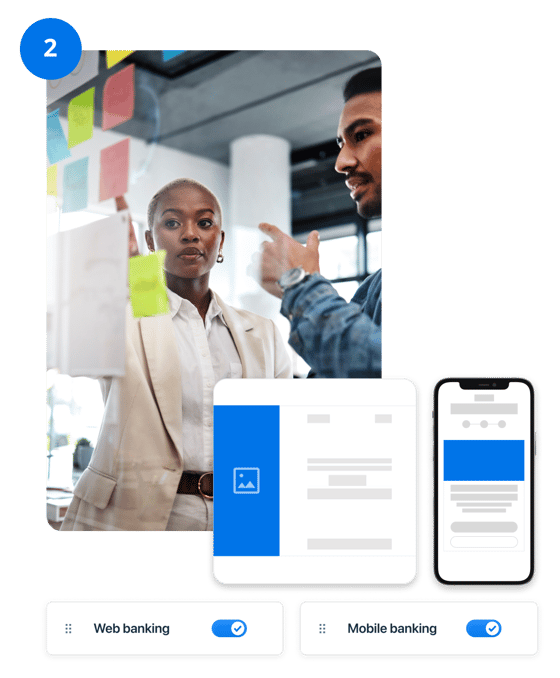 Track the performance
Unleash data-driven success with precise analytics
Track the progress of your campaign in real time and adapt your strategy on the fly. Oversee multiple campaigns at once with an intuitive reporting dashboard and gain valuable insights into your audience's behaviors, preferences, and interactions. Identify underperforming areas and make immediate adjustments to optimize the impact of your campaign throughout its duration.
Real-time monitoring

Data-driven decision making

Campaign optimization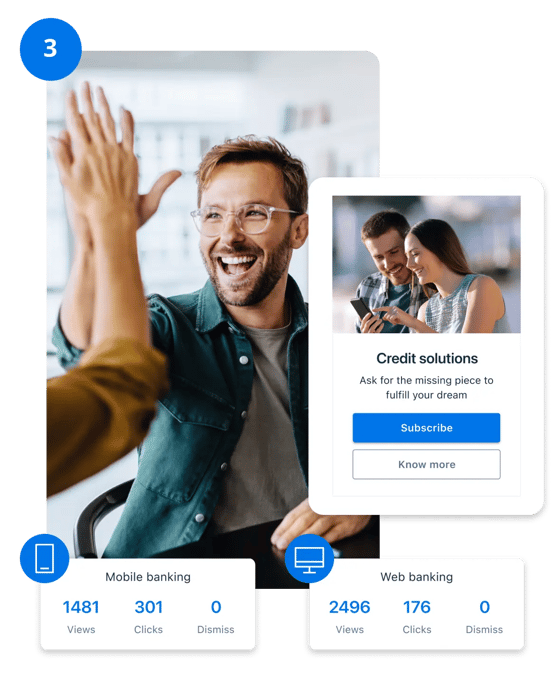 Ready to supercharge your campaigns?
Revolutionize your digital banking campaigns and unlock unparalleled success.