Download Gartner hype cycle for digital banking transformation
What will you learn?
Autocomposing
products
Products that react to situational
data to construct - or compose -
a loosely coupled package of components designed to address
specific customer needs.
New roles for
data and APIs
Open Banking technologies are
enabling new consumption and distribution models for bank
products and services.
Embedded finance
and payments
The integration of banking and
insurance products and services
within the core products that
customers use and consume on
a daily basis.
Customer and
societal ecosystems
The connections and the data flows that are developing as machines, sensors and associated technologies are integrated into domestic and work environments.
Digital banking
platforms
Capabilities that enable banks to orchestrate product and service
delivery within a seamless,
consistent experience.
Generative AI
in Banking
Technologies that can generate
new derived versions of content, strategies, designs and methods
by learning from large repositories
of original source content.
Analysis: What you need to know
Across geographies and market sectors, banks have vastly different business and technology priorities, risk and innovation appetites, and IT and cultural maturities. There are also huge variations in customer needs, competitor activities, fintech activities and regulatory impacts. When assessing the impact of transformative digital technologies on their institutions, it is important bank CIOs consider all the variables.
The numbers
Financial services products face a reinvention. Advances in AI, data analytics capabilities and expansion in flows of contextual data from Internet of Things (IoT) and other data generating sources will influence how customers - whether human, corporation or machine - consume products in the future.
Investment strategies for CIOs
The Gartner Hype Cycle highlights a range of current technologies that are deemed truly important and impactful for the banking industry as a whole. Fifteen technologies are defined as transformational. These nascent technologies have huge potential to drive fundamental change in the banking industry.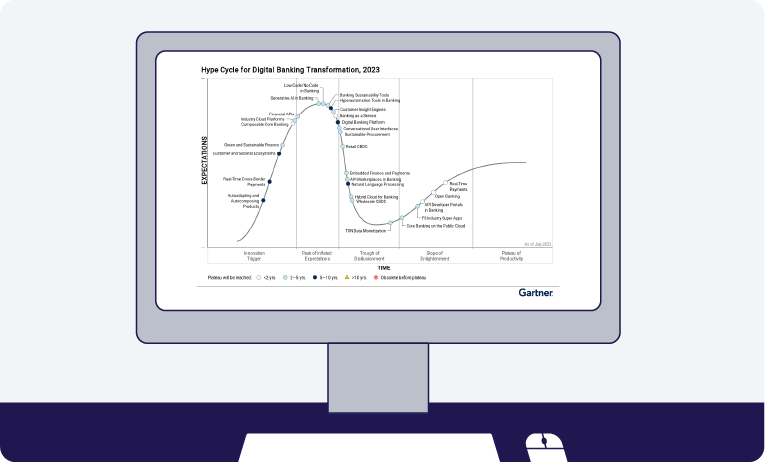 Gartner, Hype Cycle for Digital Banking Transformation, 2023, Alistair Newton, 20 July 2023.

GARTNER is a registered trademark and service mark of Gartner, Inc. and/or its affiliates in the U.S. and internationally, and HYPE CYCLE is a registered trademark of Gartner, Inc. and/or its affiliates and are used herein with permission. All rights reserved.

This graphic was published by Gartner, Inc. as part of a larger research document and should be evaluated in the context of the entire document. The Gartner document is available upon request from Ebankit.