Luísa Ribeiro
Member of the Board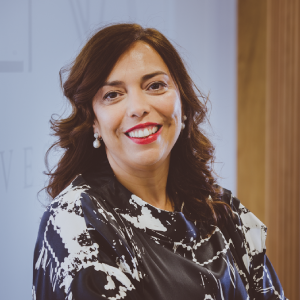 Luísa Ribeiro
Bringing over 25 years of experience, Luísa joined ebankIT in 2015 as a non-executive Board Member. Currently she holds an executive-member position, being responsible for the legal, finance and investor relations areas.
Prior to joining ebankIT, Luísa worked as a Partner in Pathena, the Venture Capital firm invested by EIF (the European Investment Bank branch for private equity and venture capital). During her time at Pathena, Luísa sharpened her competences and knowledge regarding omnichannel banking and strategic risk management.
Luísa's track record includes having worked in Sonaecom (the TMT branch of a preeminent industry conglomerate in Portugal), Inter-Risco (the largest private equity fund in Portugal, at that time), and Banco BPI, gaining valuable experience in mergers and acquisitions (leading transactions in the US, UK, Ireland, Germany, Hungary, Angola and Brazil), private equity and retail and investment banking.
Luísa holds a PhD degree in finance from the School of Economics and Management at the University of Porto, where she also received her M.Sc in Business Sciences and a B.S in Economics.
During her professional career, she invested her energy in continuously improving her skills in the areas of M&A, finance, general management and entrepreneurship in international schools including INSEAD, IMD and Ashridge.
Luísa enjoys a good laugh, long walks by the beach with her family, a good book and a broad range of music.